US Passport Card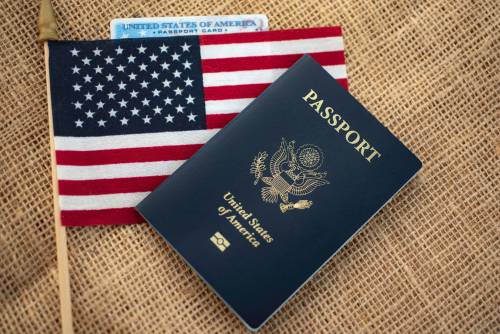 A US passport card is another document you can use to travel to Mexico, Canada, Bahamas, and the Caribbean. However, only if you go by land to Mexico or Canada, you can use the card. Also, visiting the Bahamas and the Caribbean on a cruise is permissible with a card.
So, if you want to get a passport card, let AmericanPassport.com experts get one in just a few days. Call or email us, and we will have your document in no time.
US Passport Card Application
Passport cards are issued to both a minor and an adult. Like a passport, you must complete a form and present supporting documents. Whether you have a passport or not, you can get a card. To receive a card for the State Department, submit these documents:
Complete Form DS-11 (only if you never had a passport or will apply for both at the same time)
Complete Form DS-82 (only if you have a valid passport)
One passport size photo
Your current valid passport
A clear copy of the front and back of your driver's license or state-issued ID (if applying for a minor's passport card)
Flight itinerary (if you will use the emergency service)
First-time US Passport Card Applicants
Any applicant who never had a passport must present documents to show proof of citizenship and identity. The additional papers must accompany the form. So, submit:
Proof of Citizenship:

Birth Certificate
Certificate of Born Abroad
Naturalization Certificate
Proof of Identity:

Copy of driver's license or state-issued ID
Copy of minor school ID
Doctor's records
Baptismal records
AmericanPassport.com Processing Information
AmericanPassport.com Fees
The following prices are for American Passport's professional services. The final cost of your order is determined by the number of business days selected for processing, government fees, shipping and any additional services required to complete your order.
| | |
| --- | --- |
| 7 – 9 week service (Passport Renewal Only) | $119.00 |
| 2 week service | $499.00 |
| 1 week service | $599.00 |
| 1 business day service | $749.00 |
Government Agency Fee
In addition to AmericanPassport.com's service fees, some fees will be paid directly to the government agency(s). The fees are specified on the application form and must be paid with a personal check.
Passport Fee                            $190.00
Shipping Fees
Shipping fees cover the cost of sending your documents to American Passport and the delivery of your passport and documents back to you. For your convenience, all American Passport application kits including a FedEx shipping label pre-addressed to the American Passport location that will process your order. Using this label will ensure priority overnight shipping of your completed application.
Inbound shipping starting at $29.95
Outbound shipping starting at $29.95