Second US Passport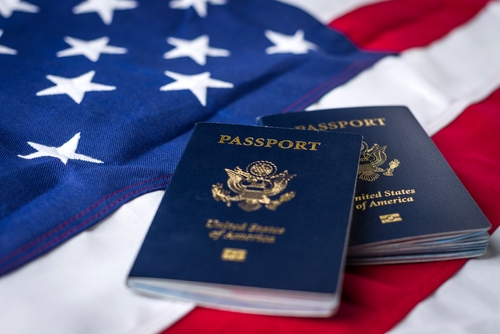 There are some circumstances that will allow you to get a second US passport. If you find yourself in a similar situation, AmericanPassport.com can assist you in getting a second travel document. To apply, you must meet the requirements set by the State Department.
Second US Passport Qualifications
To get a second document, you must meet one or more of the following conditions:
Consecutive dates of international travel causing conflict with the standard visa processing procedure
Planned entrance into individual Arab Nations or Israel
Multiple visa stamps prohibiting travel within different Arab Nations or Israel
The document you may need to travel between individual Arab Nations or Israel
Once you can verify your reason(s), start the application process.
Second US Passport Requirements
You must have a valid passport with at least six months validity
Submit your current valid passport
Provide one photo
Submit a letter stating why you need another
Provide a business letter if you are going on a business trip
Complete Form DS-82
Only upon approval will the State Department grant another passport. Not every application submitted gets approval. You must have exhausted all the options to use your current document before you apply. So, once you are at that point, then you should start the process.
AmericanPassport.com Processing Information
AmericanPassport.com Fees
The following prices are for American Passport's professional services. The final cost of your order is determined by the number of business days selected for processing, government fees, shipping and any additional services required to complete your order.
| | |
| --- | --- |
| 7 – 9 week service (Passport Renewal Only) | $119.00 |
| 2 week service | $499.00 |
| 1 week service | $599.00 |
| 1 business day service | $749.00 |
Government Agency Fee
In addition to AmericanPassport.com's service fees, some fees will be paid directly to the government agency(s). The fees are specified on the application form and must be paid with a personal check.
Passport Fee                            $190.00
Shipping Fees
Shipping fees cover the cost of sending your documents to American Passport and the delivery of your documents back to you. For your convenience, all American Passport application kits including a FedEx shipping label pre-addressed to the American Passport location that will process your order. Using this label will ensure priority overnight shipping of your completed application.
Inbound shipping starting at $29.95
Outbound shipping starting at $29.95
So, if you need a passport for the first time (adult or child), replace an expired, damaged, lost or stolen one, Americanpassport.com can also help you get your travel document.