A Denied Application Leaves You Without a Passport: Here Are Some Reasons Why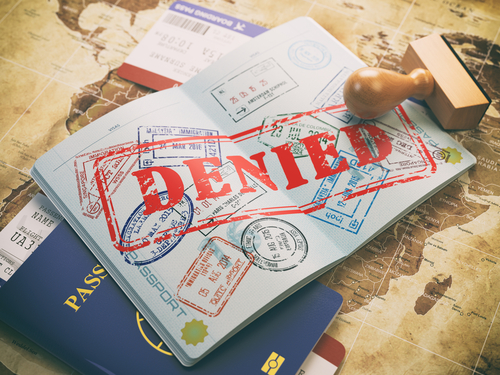 The result of getting a denied application for a passport can delay or deny you from taking your dream vacation. There are more common mistakes than you think people make during the process. It is imperative to do your homework before you submit any papers. You want to make sure the first time you apply, it will result in you having your travel document.
So, here are some of the most common reasons a passport application gets delayed or rejected.
An Incomplete Application
Before you start filling in any data, read the instructions provided on the form. Each form, DS-11, DS-64, or DS-82 all come with instructions. There is a toll-free phone number to call if you have any questions. The number is (877) 487-2778, and a representative is available Monday-Friday from 8:00 am to 10:00 pm Eastern Time, excluding federal holidays.
Most locations that accept an application will also provide information about the process. You can stop by and asked to avoid a delay or denial.
Using the Wrong Color Pen
To some, this may be a simple reason to get a delay or rejection. The form clearly states that you must use a blank ink pen when providing your data. Also, the information must be legible; otherwise, the application gets rejected.
This standard error is mostly made if the instructions were not red. It is imperative to follow these simple yet essential rules.
Submitting the Wrong Passport Photo
One important document to provide is a photo. A photo used for a passport has specific requirements. You should follow them to avoid a delay. The common mistake some people make is to take the picture themselves.
If the picture does not have a white or off-white background, is not 2 x 2 in size, in color, or has shadows, it is not good to use. The best advice is to go to your drugstore or a professional photographer to have your picture taken.
Insufficient Proof of Citizenship
It is not up to you to think which document is relevant or not. A list of the required documents is provided on the form instructions. If you don't have the original document, it is best to get them before you apply.
Some documents are acceptable if they are certified or notarized. You may provide the ones that are acceptable in those forms only. Insufficient Proof of Citizenship will delay your application.
Not Paying the Right Amount
The cost of a passport is a combination of fees. There is the application fee and then the execution fee. If you use a service, there is another fee added on. Also, standard processing is free, but to expedite will cost you. So, make sure you include the appropriate fees to avoid a delay.
You Owe Child Support
If you are behind on child support and apply for a passport, expect your application to get denied. Not paying child support is a big deal. You must be in arrears of $2,500 or more for the State Department to put a block on you.
To get your name removed from the list, you must contact the U.S. Department of Health and Human Services. Provide proof of payment or an agreement to make payments. Once you are given the okay, wait two to three weeks for the block to be removed.
You Owe Back Taxes
Owing Uncle Sam is a no-no. If you are behind with your payment or never made any, don't apply for a passport. Your application will get rejected. There is no excuse you can use to get out of it.
The only way for the IRS to remove you as a delinquent is for you to pay the debt. Until you do, you can get a passport.
You Have Unpaid Federal Loan
If the government gave you a loan while you were incarcerated in another to repatriate you back to the U.S., you must repay it. Similarly, if the government pays a loan to evacuate you or your family from a crisis in another country back to the U.S., you must repay the loan. Failing to repay will deny you from getting a passport.
Under both circumstances, not paying the loan will delay you getting a passport. Also, if you currently have a passport, it can be revoked or restricted in use.
You are a Threat to National Security
If you were previously arrested for terroristic threats, your application would be denied. Also, if you are a threat to U.S. policy, you will be rejected.
Other reasons will be if you are forbidden to leave the country by court order, parole, or probation. A felony arrest will have the same effect, no passport.