Six-Month Validity Rule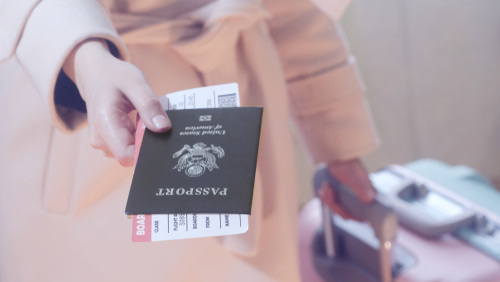 Imagine showing up at the airport, just to get turned away at the gate. You are told you cannot board your flight because your passport expires within the next few months. Although you checked the expiration date, and it doesn't expire until next month, you cannot board the flight. How did this happen? Unfortunately, this is the reality for many travelers, and not many travelers are aware of this requirement. Many countries implement the Six-month validity rule.
What is the Six-month Validity Rule?
Most countries require you to have six months left on your passport to enter the country. So, even if your passport isn't technically expired yet, you still cannot fly. The six-month validity rule is in place because other countries do not want to risk having travelers and tourists overstay their passport validity.
Not every country has this requirement, but most do. If you are unsure whether or not you need to renew your passport before you travel, it is safest to replace it anyway. It is difficult to find specific information for countries that enforce this rule, and there is lots of conflicting information listed.
Renew Your Passport Now
To get approval for a passport renewal, you must have it for ten years. Also, the expiration must be less than five years over the ten years. For minors, there is no renewal. A minor must apply for a new passport. If the minor turns 16 within a few months, it is best to wait then apply.
If you meet the guidelines to apply for a renewal, you could submit your application by mail. You will mail your current passport, passport photo, application, and your Government Fee.
Using One of The Processing Options
Routine or Expedited
Applying using regular service generally takes 7-10 weeks. First, complete the DS-82 Application Form online or by hand. You will need your current passport, a new passport photo, and a personal check/money order.
You can visit a drugstore near you like CVS or Walgreens to take your photo.  It is also important to note, if you had a name change after getting your passport, you must submit your original (or certified copy) name change documents. Mail your documentation to the address listed on your application. For an additional $60 fee, you can choose to expedite your application. With this choice, the process will take between 3-5 weeks. 
Rush Processing
Regional Agency
If you are traveling soon, and cannot spare 3-5 weeks, there are other options to apply. The U.S. Department of State has 26 passport agencies that offer same-day service. However, you need an appointment to give your papers.
Another requirement when applying for an emergency passport is proof of international travel. You must provide a sufficient itinerary showing you will travel within fourteen days, or thirty days if a travel visa is necessary. Once you meet all the requirements, you will have your travel document the same day.
Private Expeditors
Since there are only 26 locations in the country, and appointments are necessary, many travelers choose to use an expediting service like Americanpassport.com. Ultimately, expediting service submits your application on your behalf, so there's no need to go to an office.
First, contact the courier service for time-frames and pricing. Most courier companies offer 24-48 hour services. There will be a detailed set of instructions for you to follow. Once your application is completed and you have taken your passport photo, the courier will instruct you on how to ship your documentation.
Once the courier company receives your application, it will be hand-carried directly to the US Department of State for processing. From there, your courier will overnight your passport back to you.
If you are planning on traveling soon, be sure you check your passport expiration date. Even if your passport doesn't expire for a year, you are still able to renew.